With thousands of glazing options on the market, it can be difficult to choose the right type. The Solar Innovations® team will assist you in navigating through those options and recommend the appropriate glazing for each application. Units can include single-, double-, or triple-pane glass. Single, or monolithic glass, is not insulated, therefore it is only recommended for interior applications. Double- and triple-pane glass are considered insulated glazing, and are generally used in all new exterior applications. For increased insulation, argon or krypton gas can be added to any insulated glass system. Low emissivity (Low-E) glass, the most popular choice, will reduce light transmission and solar heat gain, making the space more comfortable for people. However, when growing plants is a room's main function, clear glass is the most beneficial option, allowing the most nourishment to emanate the room.
For applications with safety requirements, Solar Innovations® offers two choices — tempered and laminated glass. Tempered glass is heat strengthened and is less prone to breaking than traditional glass. When tempered glass does break, it shatters into small squares, rather than breaking into sharp, jagged pieces, then collapses. Laminated glass is used in ceilings or other potential impact areas and contains a clear film inner layer. Upon impact, laminated glass will break into a spiral, but it will not fall out of the frame; laminated glass also removes 99% of all harmful UV rays.
Cardinal Glass Industries manufactures a variety of superior glass products and is a great source for additional information: www.cardinalcorp.com.
LOW-E GLAZING
Low emissivity (Low-E) glass is used to control light and solar heat gain in a room. This is achieved by applying a thin coating of metal, either silver or tin oxide, to the inner surface of the exterior glass pane. This coating reflects heat to the exterior in warm climates and absorbs heat in cooler climates, which is conducted indoors, providing year-round comfort. Solar Innovations®' primary glass supplier, Cardinal Glass Industries, utilizes a patented coating, designated as "LoĒ" whereas general low emissivity glass is commonly referred to as "Low-E." Our standard Low-E coating options include:
CARDINAL GLASS INDUSTRIES
LoĒ²-272
LoĒ²-272 is the most commonly selected glass by our customers and has a very slight green tint. This glass assists in regulating temperatures in a room, keeping it cooler in the summer and warmer in the winter.
LoĒ³-366
LoĒ³-366 is the second most chosen glass and the best insulation choice. It blocks 95% of the sun's harmful UV rays, which helps preserve the color and composition of furnishings, draperies, and wall treatments.
LoĒ³-340
LoĒ³-340 is used when a conservatory needs to be shaded from intense direct sunlight, protecting delicate plants like orchids. A coating is applied to clear glass, which blocks the sun and causes a soft blue tint.
LoĒ-180
LoĒ-180 is an ideal choice for conservatories attempting to generate solar heat gain, particularly with cooling accessories. This glazing is a popular choice for colder climates.
LoĒ-i89
This energy-saving glass can allow for double-pane windows to meet ENERGY STAR® guidelines. LoĒ-i89 is applied to the indoor surface, preventing heat from escaping the room and lowering U-factors.
VITRO ARCHITECTURAL GLASS
SOLARBAN 60
Solarban 60 allows 70% of visible light to pass through while blocking 62% of solar energy providing year-round comfort and energy savings.
SOLARBAN 70
Solarban 70's triple silver Low-E coating allows 64% of visible light to pass through while blocking 94% of UV energy, protecting indoor fabrics.
SOLARBAN 90
Solarban 90 allows 51% of visible light to pass through while blocking 80% of solar energy providing year-round comfort and energy savings.
GLASS SPECIFICATIONS
Glazing choice plays a critical role in the performance of your product, and the selection is both location and design specific. Low-E coatings allow the sun's rays to pass through the glass while reducing the amount of heat transfer. U-values measure the amount of heat transferred through glass. The lower the value, the better it insulates. The value for a typical single pane of glass starts around 6.0, whereas you can expect values of around 0.13 for insulated glass with Low-E coatings, stainless steel spacers, and argon infill. Even though Low-E coatings can reduce the amount of ultraviolet ray penetration by over 85%, we recommend using fade-resistant indoor/outdoor furniture. Solar Innovations®' sales designers will work with you to determine your best options.
Overall Unit
Thickness
U-value
R-Value
Solar Heat
Gain Coefficient
Visible Light
Transmission
Reflectance
Out
Reflectance
In
UV
Transmittance
Monolithic
Clear
1/4″
1.02
0.91
0.82
88%
8%
8%
62%
DOUBLE GLAZED Outside Lite/Inside Lite
Clear/Clear
1″
0.46
2.17
0.78
82%
15%
15%
58%
180/Clear
1″
0.26
3.85
0.64
79%
15%
15%
29%
272/Clear
1″
0.25
4.00
0.41
72%
11%
12%
16%
366/Clear
1″
0.24
4.17
0.27
65%
11%
12%
5%
340/Clear
1″
0.25
4.00
0.18
39%
11%
13%
2%
180/i89
1″
0.21
4.76
0.62
77%
15%
14%
27%
272/i89
1″
0.20
5.00
0.41
70%
11%
11%
16%
366/i89
1″
0.20
5.00
0.27
63%
11%
11%
5%
340/i89
1″
0.20
5.00
0.17
38%
11%
12%
2%
Gray/Clear
1″
0.45
2.22
0.60
57%
9%
13%
32%
Gray/180
1″
0.26
3.85
0.49
53%
9%
14%
17%
Gray/272
1″
0.25
4.00
0.38
50%
8%
9%
10%
Bronze/Clear
1″
0.45
2.22
0.62
61%
10%
13%
31%
Bronze/180
1″
0.26
3.85
0.61
59%
10%
14%
17%
Bronze/272
1″
0.25
4.00
0.39
54%
8%
10%
10%
TRIPLED GLAZED Outside Lite/Middle Lite/Inside Lite
180/Clear/180
11⁄8"
0.15
6.67
0.56
70%
20%
20%
13%
272/Clear/180
11⁄8"
0.15
6.67
0.37
63%
15%
18%
8%
366/Clear/180
11⁄8"
0.15
6.67
0.25
57%
14%
18%
2%
340/Clear/180
11⁄8"
0.15
6.67
0.16
34%
13%
19%
1%
TINTED GLASS
Tinted glass can be used for both insulated and monolithic glazing. Blue, green, gray, bronze, purple, and red color tints are available. Grey and bronze color tints are used for privacy and controlling light. Low-E coatings can also be applied to tinted glass.
SOLERA® GLASS
Available in several thicknesses, Solera® glass is a recyclable glazing option that reduces glare and diffuses sunlight. It utilizes a durable UV barrier that controls light and heat transmittance, creating a more energy efficient system. The UV barrier also prevents the diffusion material from becoming brittle and fading over time, giving it a lifespan of 60 to 100 years.
LUMIRA® AEROGEL
When Lumira®, an aerogel-filled polycarbonate, is installed, thermal ratings are increased and light transmission is decreased. At the same time, glare and sound transmission are reduced.
FROSTED GLASS
Frosted and fogged enhancements are added to glass through acid etching. This feature allows a degree of privacy without substantially diminishing light transmittance.
ELECTROCHROMIC GLAZING
Electrochromic glazing changes between clear and tinted states with the flick of a switch, reducing glare and heat. This is achieved by applying voltage to the material, so a power source is required.
EZ CLEAN GLASS
Recommended for sloped surfaces, EZ Clean Glass consists of a titanium dioxide and silicon dioxide coating that fills the tiny pores of the glass. Silicon dioxide makes the glass exceptionally smooth so water disperses evenly and evaporates quickly. The titanium dioxide undergoes a chemical reaction with the sun's UV rays, causing organic materials to decompose and wash away with rainfall, leaving the glass clean and streak-free.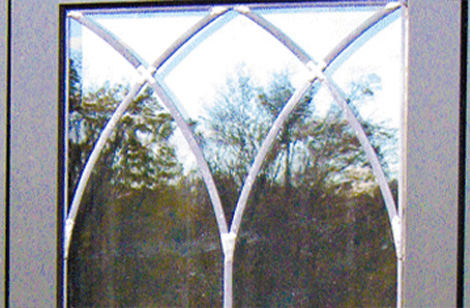 LEADED GLASS
Leaded glass refers to the lead grid on the glass. This technique emulates the traditional technique of using lead to separate panes of glass in an ornate fashion, but is only applied to the exterior face of a single pane of glass. The use of leaded glass enhances an Old World aesthetic and can be designed using a variety of patterns.
BLINDS BETWEEN GLASS
This special glass system, where blinds are placed in the air space of an insulated glass unit, reduces strong glares and heat transmittance. The blinds are fully functional and can tilt or be pulled up/down. There are several color options available for the blinds.
WIRE GLASS
Wire glass is a specialty glass that is reinforced with wire mesh. The wire adds support and added security to the unit. If the glass breaks, the wire holds the glass in place. Wire glass is often used with skylights and glass roofs.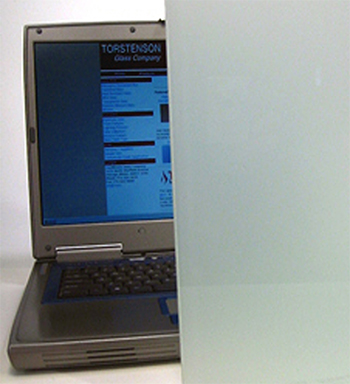 ALTITUDE LIMITS FOR INSULATED GLASS
When a sealed insulated glass unit is constructed at low altitude, then installed at a higher altitude, the glass panes bow outwards because of atmospheric pressure. In extreme situations, the unit can fracture or the sealant can rupture, causing permanent damage. The remedy would require a capillary tube addition. These tubes are used to equalize the atmospheric pressure in the insulated glass airspace and are installed by the manufacturer, without sacrificing the seal integrity.
Polycarbonate glazing is a sustainable plastic, multi-wall system that is significantly lighter (less than 1 lb./sq. ft.) and less expensive than traditional glass infills, yet is incredibly strong. Available in three thicknesses and five color options, polycarbonate does not shatter upon impact. To increase thermal ratings and diffuse light, it can be infilled with Lumira® Aerogel.
LIGHTWEIGHT
A sheet of 25mm polycarbonate weighs only 0.717 lbs, much less than traditional glass. This correlates to reduced shipping costs and quicker installations.
STRENGTH
10 times stronger than acrylic and 200 times stronger than glass.
DESIGN FLEXIBILITY
Available in numerous colors including clear, opal, bronze, blue, and green, these panels can be arched to a specific radius. The physical appearance of polycarbonate lends itself to a modern style.
THICKNESS
There are multiple thicknesses available, including 8mm for interiors, 25mm for exteriors, and 60mm for hurricane-prone zones.
DIFFUSED DAYLIGHT
Direct sunlight entering a room can often cast harsh shadows and produce glare. Polycarbonate diffuses light, and is especially useful for rooms with computer screens.
SUSTAINABLE PRODUCT
Because polycarbonate is a plastic based product, it is recyclable. Certain product lines are even available with post-consumer recycled content.
POLYCARBONATE SPECIFICATIONS
| Product | Thickness | Color | Light Transmission (SHGC) | Structure | Rib Spacing | Weight (Lbs. per sq. ft.) | U-Value | R-Value | Bending Radius | STC |
| --- | --- | --- | --- | --- | --- | --- | --- | --- | --- | --- |
| Thermoclear 15 | 5/16" (8mm) | Clear | 0.82 | 2-wall | 25/64" (10mm) | 0.348 | 0.57 | 1.75 | 55″ | 18 |
| Thermoclear 15 | 5/16" (8mm) | Softlite | 0.77 | 2-wall | 25/64" (10mm) | 0.348 | 0.57 | 1.75 | 55″ | 18 |
| Thermoclear 15 | 1″ (25mm) | Clear | 0.69 | 3-wall | 25/32" (20mm) | 0.660 | 0.34 | 2.94 | 173″ | 23 |
| Thermoclear 15 | 1″ (25mm) | Softlite | 0.67 | 3-wall | 25/32" (20mm) | 0.660 | 0.34 | 2.94 | 173″ | 23 |
| CoverLite | 1″ (25mm) | Clear | 0.71 | 3-wall | 25/32" (20mm) | 0.660 | 0.34 | 2.94 | 173″ | 23 |
| CoverLite | 1″ (25mm) | Opal | 0.51 | 3-wall | 25/32" (20mm) | 0.660 | 0.34 | 2.94 | 173″ | 23 |
| CoverLite | 1″ (25mm) | Bronze | NA | 3-wall | 25/32" (20mm) | 0.660 | 0.34 | 2.94 | 173″ | 23 |
| Thermoclear Plus | 1″ (25mm) | Clear | 0.65 | 6-wall | 25/32" (20mm) | 0.700 | 0.27 | 3.70 | 173″ | 23 |
| Thermoclear Plus | 1″ (25mm) | Opal | 0.54 | 6-wall | 25/32" (20mm) | 0.700 | 0.27 | 3.70 | 173″ | 23 |
| Thermoclear Plus | 1″ (25mm) | Bronze | 0.42 | 6-wall | 25/32" (20mm) | 0.700 | 0.27 | 3.70 | 173″ | 23 |
U-VALUE: U-Value is the measure of the ability of structural components to conduct heat. The U-value of polycarbonate is measured by the number of BTUs that will pass through each square foot of area, per degree of temperature difference, from one side of the polycarbonate to the other. U-values indicate how well the polycarbonate will hold the heated or cooled air. The lower the U-value, the greater the polycarbonate's resistance to heat flow and the higher the insulating value. The U-value is the inverse of the R-value.
R-VALUE: R-Value is the measure of resistance to heat gain or loss (ability to insulate). The higher the R-value, the greater the polycarbonate's resistance to heat flow and the higher the insulating value. The R-value is the inverse of the U-value.
SOLAR HEAT GAIN COEFFICIENT (SHGC): The amount of solar radiation transmitted through polycarbonate is expressed as a percentage for SHGC. The lower a polycarbonate's SHGC rating is, the less it will transmit heat, and the more it will produce shade. Generally, a lower SHGC is desirable in warm climates and a higher SHGC is desirable in cold climates. SHGC has replaced Shading Coefficient as the standard indicator of polycarbonate's shading ability.
Glazing does not only refer to translucent material. Solid panel infills are often used as base panels or solid roofing. These aluminum panels can be insulated to improve thermal performance. Solid base panels provide a layer of privacy and are perfect in areas where grass is mowed, eliminating the risk of glass breakage from mower-thrown projectiles.