80-90° Operable Skylights
A 80-90° operable skylight lifts the glazed unit or "lid" 80-90° from the plane of the curb. This type of skylight has different applications and specific functions, one being ventilation. A typical ridge vent or standard operable skylight only opens a few degrees, allowing small amounts of ventilation. The 80-90° unit fully opens, allowing optimum amounts of ventilation into a space. Daylight is a desired effect of all skylights, and the 80-90° series allows ample levels of daylight.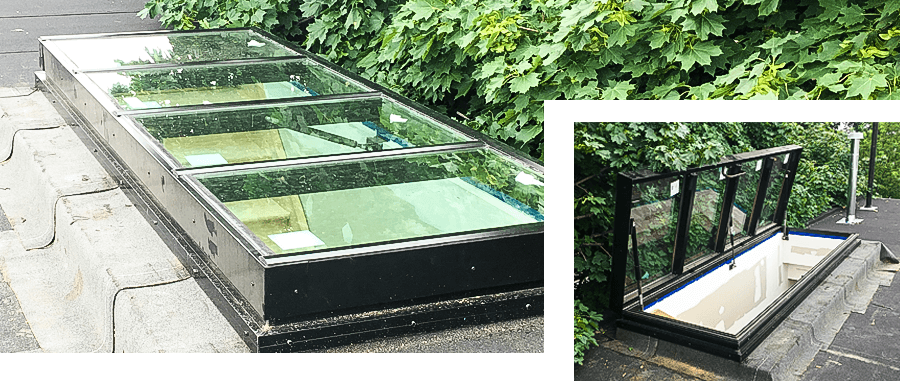 Easy Access
At times, large equipment may need to be moved into a room, but the building doors may not be large enough. 90° skylights provide an unobstructed opening, allowing equipment to pass into the interior of the building. Solar Innovations®'s 90° operable skylight can also be used for roof access. Depending on the building's design, reaching the roof may be challenging, a 90° skylight creates an easy exit to any building's roof. This type of skylight also provides unobstructed views of the night sky for those who enjoy star gazing.

Customization
All 80-90° operable skylights built by Solar Innovations® are constructed out of low maintenance aluminum framework that will not rot, rust, warp, or require yearly finish work. Aluminum is an ideal material to withstand years of exposure to the elements. Virtually any type of glazing can be incorporated into the framing system, including laminated glass and LowE tints. The 80-90 degree skylight is custom built. This means the skylight is built to your specific sizes. The design of the skylight is also built to your desired slope and number of units.

Custom Engineered
Each Solar Innovations system is custom made to order based on your project needs and preferences. Our team of engineering experts has you covered.

Glass Variety
Solar Innovations has top of the line glazing solutions which include laminated, dual glazed, triple glazed, & marine glazed options just to name a few.

Ease of Operation
Solar Innovations' systems offer single-handed operation and move smoothly with little effort. Much of our hardware is manufactured in house which allows us to control lead times.

Sustainable Products
Solar's products are manufactured with outstanding thermal performance, durable framework, and sustainable materials making it a great option for your next project.

WindowMaster Compatible
Many Solar Innovations operable glazing systems are compatible with WindowMaster motors. These units can be linked to smart home and building automation systems and are built for excellent performance over the life of the product. Click here for more information.