Opening Up to Paradise
Awning windows by Solar Innovations, Inc. provide exceptional performance for an economical price. This type of window hinges at the top of the frame, allowing the bottom to be pushed outward. There is a lock on the interior, which can be unlocked and the window will push to the outside. Screens can be applied on the interior so you can still enjoy a fresh breeze of air without the intrusion of insects.
All awning windows manufactured by Solar Innovations, Inc. are constructed out of durable aluminum. There are six standard finishes and two anodized finishes available, along with any custom color your job may require. The look of a wood window is available with the use of a veneer applied to the frame. Various wood species are available, including mahogany, pine, birch, and Douglas fir.
If you already have awning windows, but they are in some way damaged, Solar Innovations, Inc. offers repair services. An install team can come to the job site and are typically able to repair the awning window. Awning window replacement is also an option if the windows are beyond repair.
Crank Operation
Awning windows are available with a crank operator. Instead of having to manually push open the window, the crank can be utilized to open the unit. The screen is mounted on the interior of the window, allowing the breeze to enter but preventing insects from entering. This model comes with a limiter, which allows the window to open without exceeding its operable limits.
In-System Applications
Awning windows are a popular choice for in-system windows in greenhouses, conservatories, sunrooms, and other Glass Structures. These windows operate like vents, naturally allowing for air circulation. Cool air can enter through windows place lower on the structure, while hot air escapes through awning windows placed at the ridge of the structure.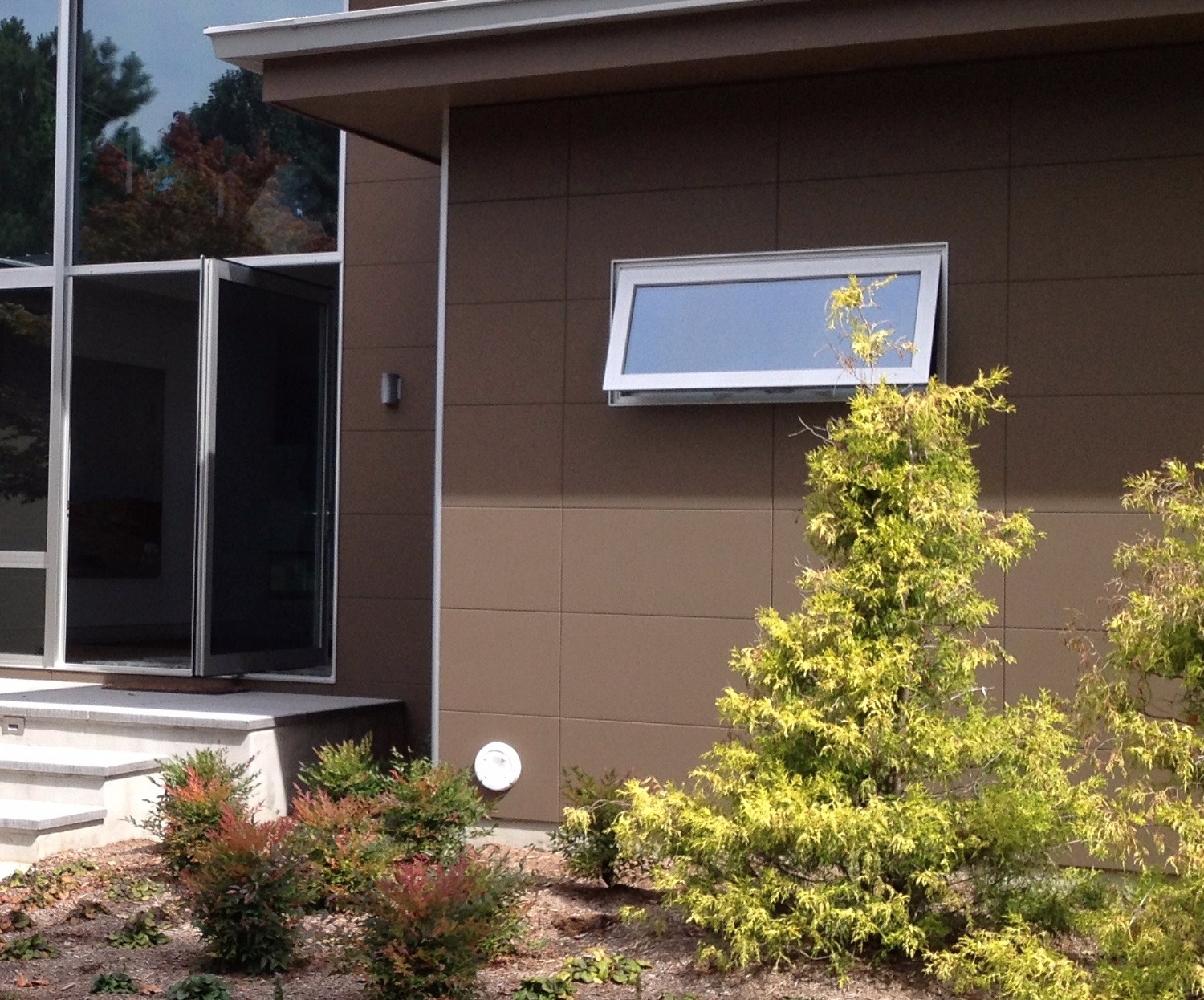 Mulled Capabilities
With our Mulled Window System, awning windows can be used in conjunction with multiple other operable window & door choices. No additional framing is required when mulling together multiple windows and doors, allowing for consistent sightlines and a clean appearance.
PLEASE NOTE: All hardware is subject to vendor availability. Custom finishes may be available upon request at additional lead time and/or cost. Solar Innovations® reserves the right to discontinue any hardware option at any time.
Paint
STANDARD – AMMA 2603*
Powder Coat Solids
STANDARD – AAMA 2605§
SI Natural Clay
FRSL 47591
SI Hartford Green
FRSL 32872
Powder Coat Solids
PREMIUM – AAMA 2605§
Military Light Blue
FRSL 21709
Hartford Green
FRSL 32872
Antique Bronze
FRSL 46648
Wood Veneering (Unfinished)
STANDARD¶
Wood Veneering (Unfinished)
DESIGNER¶
NOTE: WOOD VENEERING IS FOR INTERIOR APPLICATIONS ONLY. AVAILABLE ON A LIMITED BASIS DUE TO VENDOR SUPPLY.
*5 year warranty (finishes available while in stock).
†5 year warranty. Scratch & fade resistant; contains no VOCs.
‡Dependent on shelf life, some AAMA 2604 & 2605 finishes may be unavailable; Hartford Green is being phased out.
§10 year; up to 20 year warranty. Scratch & fade resistant; contains no VOCs.
¶Adds one to three weeks to lead time.
PLEASE NOTE: Depending upon color selection, extra cost and lead times may apply for all finishes other than Solar Innovations® stock standards. Color illustrations are shown as accurate as standard photography and printing processes allow. Final finish selection should be made from a physical sample; please contact Solar Innovations® to receive samples. All product and finish options are subject to vendor availability. Solar Innovations® reserves the right to discontinue any option at any time without notice. Additional options, including custom color matches, are available; contact a Solar Innovations® sales designer for details.
"We just finished installing the 2ndorder of folding glass wall systems into our client, Red Dot restaurant's building. I decided to write this letter because I'm so impressed with your product. Both systems were well documented, packaged, and built. We have no detectable air infiltration in 15kt wind and it was 10 degrees out! You make a great product."
Richard Hake, Windowman LLC, Wilmington, Delaware
"Our folding glass wall system was packaged very well and delivered as promised. We love our 24 foot view of the woods and lake. Great engineering, quality, and appearance!"
Karen Watts, Residential End User, Oakwood, Georgia

WindowMaster Compatible
Many Solar Innovations operable glazing systems are compatible with WindowMaster motors. These units can be linked to smart home and building automation systems and are built for excellent performance over the life of the product. Click here for more information.