SLIDE & STACK GLASS WALLS
Maximum Versatility
Looking for custom exterior doors for either your business or home? Solar Innovations® finally has the perfect solution in our Slide & Stack Glass Walls. Comprised of individual panels which slide along a top hung track and stack to a remote location, look no further for your custom solutions.
True Open Floor Plan
The Slide & Stack System is designed to accommodate many panels and typically ranges in sizes over 48-inches wide. While the wall is open, the panels stack into a parking bay. Panel parking bays can be parallel or perpendicular to the track, feature multiple bays, exist at one or both ends of the wall, or stack into a pocketed area. In addition, custom bays can be designed to make the most out of any project's spacial constraints. Slide & Stack Glass Walls are top hung systems requiring headers to bear the weight of the unit. Any engineering questions can be discussed furthermore with Solar Innovations®' in-house engineering team.
Utilize Slide & Stack Glass Walls for straight, angular, multiple face, and curved openings. Design units in a 60 degree, twin trolley configuration; the dual trolleys are located above the vertical rails of the glass panels, allowing them to slide with greater ease along the track. The 60 degree design of the panel parking bay allows for one hand operation of the stacking panels. Solar Innovations® also designs and engineers custom trolley and stacking configurations.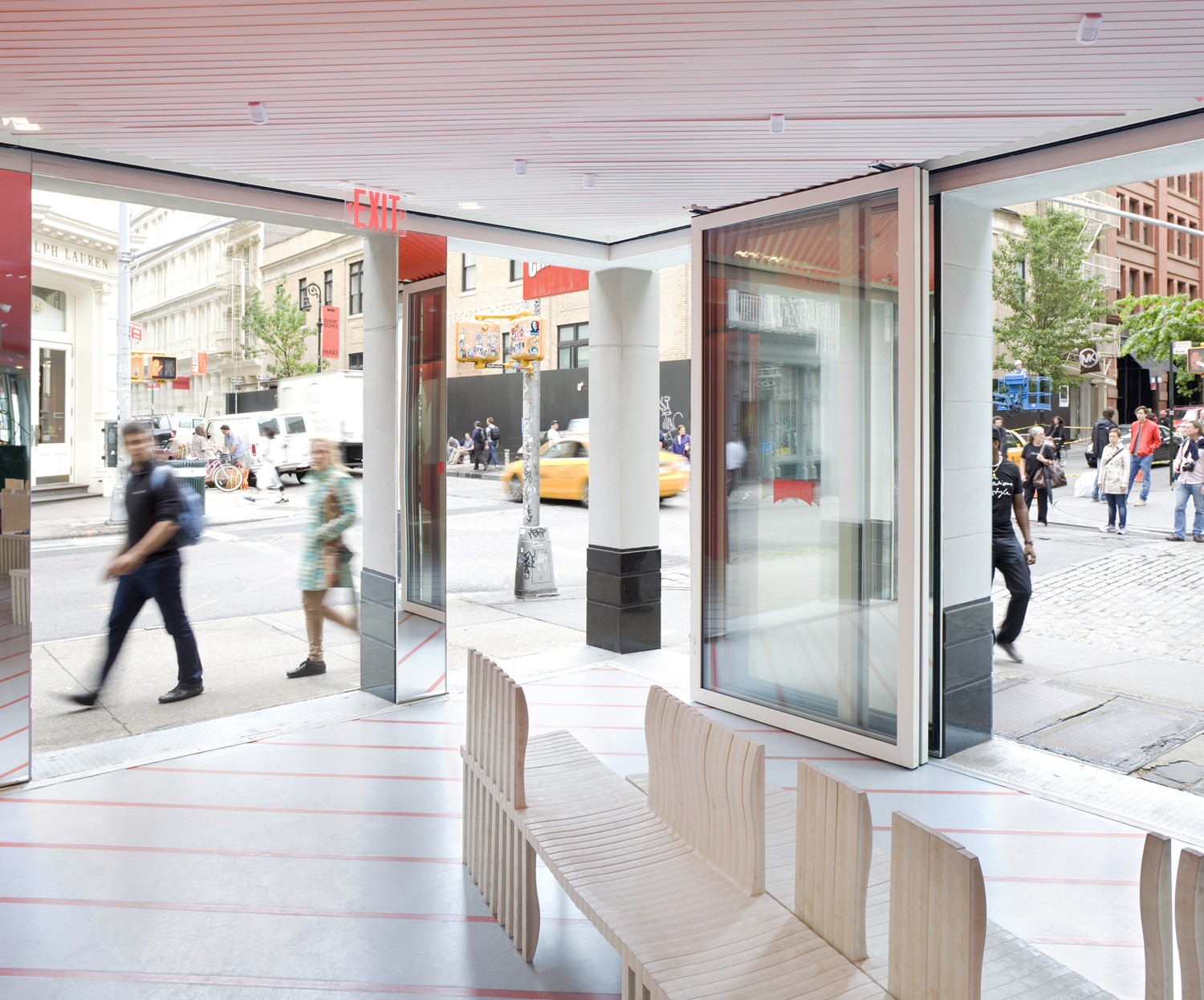 Commercial Applications
Slide & Stack Glass Walls are extremely versatile and are frequently used in restaurants, storefronts, offices, hotels, and educational facilities. Their ability to round corners, span unlimited expanses, and move completely out of sight when open, make Slide & Stack Glass Walls ideal for office & hotel conference rooms or other multi-use spaces. Use Slide & Stack Glass Walls for storefronts or exterior facades that completely remove indoor/outdoor barriers during the day, but lock up securely after hours.
Residential Applications
The unique configurations and ease of operation of Slide & Stack Glass Walls make them ideal for custom residential applications. For example, they can be used as the exterior walls of a home which open up entirely, including corners and segmented radius walls. Slide & Stack Glass Walls are also commonly used as residential pool and spa enclosures or as a custom pool house. The wide range of panel parking options, including pockets, makes it incredibly easy to incorporate them into any home.
"We are enjoying our Solar Innovation doors immensely in the remodel that we worked with you last year. Thanks to your team and to Heather Washburn, our architect, for finding your doors. We love opening them and connecting to the outside when the weather is good and we also enjoy all the light the doors/windows bring in the Seattle winter."
Jeanne YU, Johnson YU Project, Redmund, Washington
"We installed the door today. It went very well and everyone is happy with the finished product. We will use your product again when possible."
Mike Huizenga, Lakeshore Glass and Metals LLC, Michigan