Orchid Greenhouses
Orchids have long been thought of as one of the most difficult flowering plants to care for. Allow Solar Innovations® to design an orchid greenhouse to meet your specific needs. Our orchid greenhouses can incorporate essential elements for orchids such as shading, heating, cooling, watering, and nutrient control systems. Orchid greenhouses can be completely custom designed to meet each customer's needs.
Solar Innovations® orchid greenhouses are designed to create a stable environment for the plants which can be critical to their success. These structures can withstand the temperature and humidity requirements of the plants.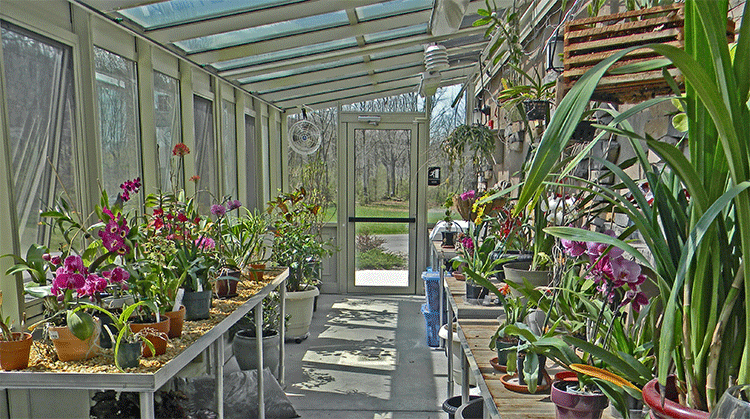 Thermally Enhanced
Solar Innovations®'s thermally broken system is complete throughout the greenhouse and is included for all accessories, sills, doors, windows, and ridge and eave vents. The unique thermal isolator in the aluminum system allows for increased thermal performance while maintaining architectural appeal. Orchid greenhouse environments are also improved with high performance glazing, which incorporates stainless steel spacers within the glass panels. This provides a more stable internal environment despite the changes in external temperatures.

Shading
It is also important to consider light transmittance when designing an orchid room. Orchid greenhouse shading options can also improve environmental control and can be customized to meet needs specific to each growing environment. Our shading options include synthetic fabrics which can be removed from their placement and cleaned. In addition, these shades can be controlled manually or fully programmed by an automated controller. Learn more about Solar's Shading Systems.

Circulating Fans
Circulating fans are essential greenhouse accessories. Pests can spread quickly when the air becomes stagnant. The circulating fans help keep the air moving which cools the temperature of the plants and can help to reduce plant burns. Another benefit to fans in the orchid greenhouse is an even temperature. Solar Innovations®'s experienced horticulture design team partners with our customers to design the entire growing environment, rather than only providing structure design assistance as many of our competitors do. Learn more about Solar's Circulating Fans.